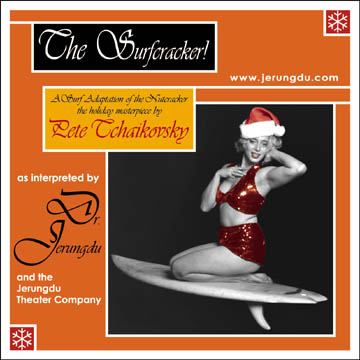 Past Projects > Jerungdu > Surfcracker
The Surfcracker by Jerungdu played in 1999 at Intermedia Arts and 2000 at the Loring Playhouse. There is also an album of the music. You can purchase the album on the Stucco Music Store site.
Surfcracker is a musical and comedic melting pot featuring Tchaikovsksy's masterpiece the Nutcracker mixed with Beach Blanket Bingo, Elvis and the Surfaris. Hear all the familiar melodies of the Christmas classic as Clara goes on a marvelous adventure through a dream inspired by a doll, and of course she will watch the characters dance the monkey and the twist. Hear Tchaikovsky's Nutcracker without all the filler and played to a surf beat! What can be more accessible then that?
Clara is from a small California town in 1976. Although she is noticeably pregnant, she drinks whiskey and pops pills at a roller disco/bowling alley after breaking the news to the baby's father. Fritz is a truck driving roadie who she only slept with to meet the members of a rock and roll band. With a Christmas disco party raging in the background (more warped Tchaikovsky) the whiskey and quaaludes hits her and she passes out.
When she wakes up she's the star of a 60's surf movie. The trucker is now a handsome lifeguard who looks like Elvis. Since the lifeguard is not paying enough attention to her, Clara pretends to drown so he will have to save her. By the time he finds the right rescuing outfit, Clara has already been saved by Surfdude who she falls instantly in love with. However, Surfdude is in love with a mysterious beach babe known only as the "Duchess of Surf" who only surfs the most gnarly waves in the smallest bikini anyone has ever seen, and then disappears without a trace.
A movie director walks into the middle of the sound stage with a megaphone and yells "Cut!" Clara then becomes Annette Funnacello, the actress in the movie within the dream. She and Elvis develop an off screen romance.
Elvis complains to his agent that his movie persona is not getting the girl so he offers a few script revisions that turn the whole production on it's ear.
The Surfcracker ends in 1976 when Clara wakes up from her coma just in time to meet the band she has been obsessed with. They cheer her up by playing a "Heavy Medley of Christmas Classics" which contains highly recognizable classic hard rock songs set to Christmas lyrics. Clara gives birth to a black baby while the band plays "White Christmas".
Read the script.