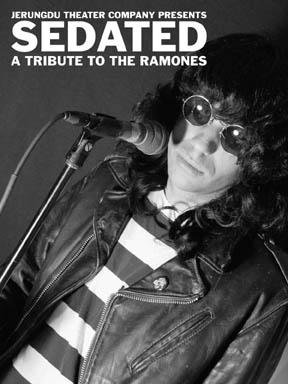 Past Projects > Jerungdu > Sedated
In the Fall of 2001, Jerungdu staged Sedated: A Tribute to the Ramones at the Bryant Lake Bowl Theater in Minneapolis. It was a musical review featuring the hits of the Ramones with comedy sketches scattered throughout. The show was filled with great tunes and gave a historical perspective on the Ramones and their influence.
Sedated told the story of the Ramones through the songs. We can see "Sheena", their number one fan, grow up with the Ramones as they grow up with her. We follow the band and its fans as the music matures, they find sobriety, deal with the effects of aging and eventually death. Despite the changes associated with time, the Ramones and their fans still remain connected to their youth through the music.
Sedated was a departure for Jerungdu Theater in that no "perversion" was employed in this production. It marked an embryonic step toward producing shows that "uplift the human spirit".