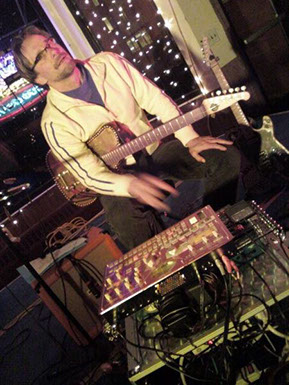 Current Projects > Primadonahue
After playing in numerous bands for many years, I have discovered that only machines can tolerate my temperament. Thus, I have formed a one man band called "Primadonahue".
When I was producing big, ambitious shows with Jerungdu Theater, there were occasions when over thirty artists were contributing to a single project. Although this was often fun and rewarding I still felt more like an administrator than a musician. I wanted to try something that didn't involve thirty other people in the creative process. A one man band made for a better artistic and business model.
A few years ago I started working nights and could not attend music rehearsals. The circumstances presented the inspiration to make a one person band. My lovely bride came up with the name Primadonahue because I'm a pain in the ass.
The process of doing a one man band was clumsy at first. It was like reverting back to the level of musician I was in high school and completely relearning how to play. I started out using rather primitive techniques. Digital delays were employed as rhythmic elements. When that got boring, backing tracks were used as I ventured into the acousmatic tape music genre. My act has since progressed to include a wider variety of sonic techniques.
Now I employ a combination of guitars (built by me), looping, midi sequencing, strap on electronic drums, electric kazoo, theremin, foot controlled synth, vocals and a wide range of sound filtering devices. (Tech heads: see the Primadonahue Technology Matrix.)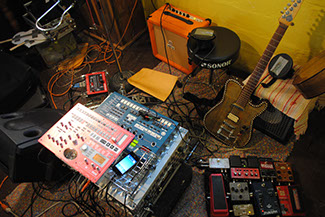 The best thing about performing with machines is that they never nix my ideas!
My vision for the project was to make musical decisions that I could not pursue with a human band. Real musicians either can't or won't play it. Technology allows me to maximize the possibilities of expression and expand my compositional parameters. I perform anything I can imagine with no limitations... including the limits of my own ability. If a part is too hard for me to play, I can just make a machine play it.
I have performed in both a concert format or as incidental music according to the circumstance. As well as performing solo I have also been a part of some interesting collaborations.
Check out the Repulsar page to find out more about my work with Chris "Newt-Sparky-Skink" Huff and Wayne Sayers.
I have also worked with Bedlam Theatre performing in several of their Ten Minute Play Festivals and many of their Romps. In addition, I was a one man pit orchestra in Mike Harris' production of "Big Ole Bedlam's Theatre of the Revolutionary Arts" in February of 2006. (Read the reviews.) I also performed at the Southern Theater in April of 2006 in Bedlam's "Casablanca" as part of a Fringe Festival benefit.
The first Primadonahue album is titled Illuminati Mind Control Slave (2010). No, I'm not a pyramid worshiper. It's a statement about current pop stars and their overt use of occult symbolism. Physical CDs can be purchased from the Stucco Music Store. Downloads of the newly remixed version of IMCS are available at primadonahue.bandcamp.com/releases. $7 each! ($1 for individual tracks.)
Loosh, the second Primadonahue album, was released in late 2017. A limited edition of 50 CDs and 50 cassettes are available (unlimited digital downloads).

I was recently a guest on the Zeph Report podcast hosted by Zeph Daniel. We discussed the latest Loosh album release and an assortment of other esoteric topics.
Music Samples
MP3 bit rate: 128 kbps.
Socialist Totalitarian Dictatorship with a One-World Currency and a Microchipped Population
Primadonahue
Track 1 on Loosh. Could this song be a subtle suggestion that rock and roll is a Satanic, communist, social engineering mechanism used enslave all humanity? No. This song is not subtle at all.
Primadonahue
Track 2 on Loosh. This is the oldest love song ever written. Extracted from the collective DNA memories of Billy Preston, Bruce Fisher, Joe Cocker, Newt Skink and myself, this is a romantic duette sung by the yin and yang properties of the non-integrated universe prior to the big bang. The computer voice sings the yin vocal arrangement to signify her status as mother of our mechanized universe.
Primadonahue
Track 8 on Loosh. (Loosely based on the Barry Mann and Cynthia Weil song by the same title.) Q: Why would I showcase the many failed musical innovations I have pioneered throughout the years in a Mama Cass Elliot song? A: Because I gotta make my own kind of music.
Primadonahue
Track 4 on Illuminati Mind Control Slave.
Primadonahue
Track 11 on Illuminati Mind Control Slave. Some of you might remember this as a Crashdummies tune from back in the '80s. I was never comfortable playing it back then. Since I did not have a big gut, I felt that I could not do it proper justice. But now that I'm older and I actually HAVE a big gut, I can finally play it with the authenticity it deserves.
I Want You to Wanna Do What I Wantcha To Do
Primadonahue
Track 1 on Illuminati Mind Control Slave. Inspired by the Ramones, Cheap Trick and the Cars all at once.
Weezer Remix by Primadonahue
Loser of a Weezer remix contest. Also Track 9 on Bootleg Remixes, Mashups, & Sound Collages. Get the FREE album download (uncompressed WAV files).