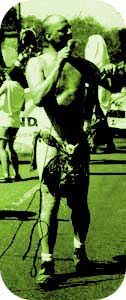 Past Projects > Jerungdu > Karmic Kale Bikinis
"Don't eat the brown kale."
-Wavy Gravy
Dr. Jerungdu's Karmic Kale Bikinis is a concept by Newt Skink; the infamous Minneapolis spoken word all star who once scored a perfect ten and a negative infinity for the same performance at a local poetry slam.
The basic concept started one hot summer day while listening to a John Cale CD. Newt suggested tilling my entire back yard and planting kale. When asked why, he said "Then we can sell all natural organically grown edible underwear." That's how the "Dr. Jerungdu" character was created. He was sort of a cross between a southern preacher and a snake oil salesman who fronts Jerungdu's traveling noise making float powered by a gas or electric generator at Twin Cities outdoor events.

In a thick southern accent, Dr. Jerungdu anoints the audience with leaf vegetables promising them the "blessing of an eternally great sex life." Here are some excerpts from Dr. Jerungdu's mostly improvised dissertation:
"How many of you have a rash today from your over-warm itchy cotton underwear? In my youth farmer Jones showed me his way, For stayin' real cool on steamy Jew-lie days. Underneath his green and gold John Deere cap, He wore a leaf of cabbage and said 'Son, lemme tell ya where it's at.' He took off my propeller beanie and laid the leaf upon my head and said, 'This would look real good on yer sister too.' Now if cabbage can keep farmer Jones' big bald sweaty head nice n' clammy cool, Like a pond full of bull frogs, Just think how good kale will feel on your nether regions, That need twice the wickin'. Dr. Jerungdu Karmic Kale Bikinis... edible underwear with a conscience."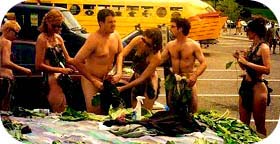 He then talks about a conspiracy masterminded by the sexually repressed "Otto Titslinger" who invented the brazier because of his belief that the breast is a "wound" inflicted upon women by God... and the wound needed a band aid.
Oddly enough, Dr. J. has gotten PAID for various performances of this guerrilla theater production... thus proving true one of our infamous slogans: "Jerungdu is an anarchy for profit corporation." We also won awards at the Cedarfest parade and the Intermedia Arts Art Car Parade. Most notable was our appearance at the 1998 May Day parade which featured our very special guest star; the famed 60's icon and Merry Prankster, Wavy Gravy. He found us in the staging area and asked if he could ride along with us. We said "yes" of course. He was throwing out kale as well as charming and profound witticisms such as "Don't eat the brown kale" and "The 90's are the 60's upside down".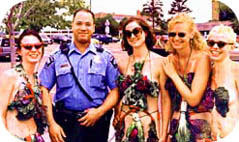 From the "It's not a party until the cops show up" department, the Kale show ended it's run on a bit of a down note when some of the performers were ticketed for indecent exposure at the 1999 May Day Parade. We were told by event organizers to never come back. But I personally view it as a badge of honor to have been censored from the "Free Speech" section of a hippie anarchist parade. Check out this City Pages article for more details.