Past Projects > Jerungdu > Press
This is a relatively complete archive of Jerungdu reviews and feature articles from 1996 to 2006.
Prince on SNL: Scott Seekins in Red?
City Pages, Pete Scholtes at February 6, 2006
Is it me, or is Prince looking more and more like artist Scott Seekins? During his first Saturday Night Live performance in 16 years (video here ), Prince wore the trademark Seekins pencil 'stache, headband, and suit, but in dark red and black rather than all-white (what Seekins wears in summer) or all-black (what he wears in winter). If you think you're up on your Minneapolis icon trivia, here's a quick quiz that asks the question: "Seekins or Prince?" 1.) Local rock band Jerungdu has performed dressed as him. 2.) For a while he owned the web site www.madonna.com 3.) He's obsessed with Britney Spears. 4.) He used to own a store across from Calhoun Square. 5.) He enjoys fly fishing. 6.) According to unsubstantiated rumor, he was banned from the last place that showed him. 7.) He once served everyone Mint Julips at a show. 8.) He and Larry Graham once proselytized as Jehovah's Witnesses during a Sunday Vikings game. 9.) He makes model train-set miniatures on the side. 10.) He is his own greatest subject. And the answers are...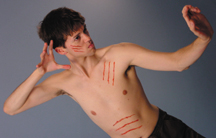 Highlight: Dragon Fist Hidden Gerbil
City Pages July 17, 2002, Max Sparber
The program for Jerungdu Theater's "kung fu rock musical" claims, "Many of the song in this show are actual Asian pop tunes translated phonetically into English," but we suspect there has been considerable meddling by scriptwriters Michael Donahue and Robert Eichinger. Take therse lyrics as an example, performed as duet between a girlish young man amd his drunken kung fu master uncle, both wearing top hats and spinning canes. "Too young to chew my blue attack dog," sings the uncle , to which the nephew responds, "She's full of hymens and tin men." Cooty Promo
The company makes lofty claims that their story is based on Tibet's most renowned saint, Milarepa, an 11th century yogi whose path to wisdom included raining scorpions, snakes and lizards down on his unscrupulous relatives. And Jerungdu tells this story--sort of. In this incarnation, however, Milarepa has been replaced by and abominably named Cooty, played by Chris Kelly (the thin boy from the above song) with a mixture of Japanese pop-star mannerisms and Sal Mineo troubled-teen homoeroticism, if you can imagine such a thing. Cooty's pilgrimage is closer to a Seventies Hong Kong exploitation film, featuring lesbian ninjas (one produces a tampon-shaped set of nunchaku; from where I dare not say), long-haired mack daddies, poo jokes, and a guest appearance from Godzilla in puppet form. This all tends more toward the silly than the shocking, but it is capably directed by Galway McCoullough (including a rather ingenious bit of stage business during the intermission) and boasts more jokes per minute than a Henny Youngman set at the Friars Club. More than a few of these jokes miss, just as a juggler repeatedly drops daggers on stage during one of the play's many martial-arts sequences. But the juggler doesn't seem to mind--he simply scoops up his daggers and throws himself back into the mayhem, where severed limbs fly from the stage (they really do). With so much happening, what does it matter id a dagger--or a joke--drops to the ground now and again?
Hot Tickets: Dragon Fist Hidden Gerbil
Pulse, July 3-10, 2002, Katie Bodin
Who other than Jerungdu Theater Company could get away with making a kung fu musical? The company that brought us "Surfcracker" the surf version of the Nutcracker and "Barneezlebub" the hillbilly porn opera now turns a scrawny young video game playing boy named Cooty into a martial arts master who kills off most of his village. Incorporating the essentials, puppets, dance, live music, video games and live stage combat, Dragon Fist Hidden
Gerbil will knock you off your chair with laughter.
Dog Day Entertainments: Dragon Fist Hidden Gerbil
Southside Pride, August 2002, Marty and Martha Roth
At Red Eye an unruly troupe that calls itself Jerungdu Theater put on a silly, bawdy, mostly delightful show called "Dragon Fist Hidden Gerbil," billed as "A Kung Fu Rock Musical." We won't tax you with the plot, which features a sissified hero named Cooty who gets his best martial-arts move from a giant gerbil and a dominatrix Dragon Lady who commands a corps of lesbian ninjas. The cheesiness of the piece is underlined by multiple references to "The Gouda (or Guddha)," "good/bad Parma" —as in Parmesan, we assume—and "attaining Velveeta," but Galway McCullough provided good tight direction for the alternately hilarious and repulsive script. The performers, headed by Chris Kelly as Cooty and Mo Donahue as the Dragon Lady, sang and danced like pros and acted like—well, like kung-fu movie types. We especially admired the live band: Aaron Belamy, Michael Donahue, Jeff Moon, and Montana Scheff. Here's a bit of the gerbil fight song: "Nibble, nibble shake, dig, claw squirm, run/ Everyone will fear the wrath of my feral gerbil death threat." You gotta love it . . . or not.
WTF!?: Dragon Fist Hidden Gerbil
Flowerhead.com, 7/13/2002
Last weekend I picked up a flyer/postcard advertising a play called was to be had at such a find. Now, a week later, I came across the card again, and noticed the URL. Now all I can say is...WTF!?!? Just look at the script and mp3's, any attempt at description will not do it justice There's a perverse part Dragon Fist, Hidden Gerbil: a Kung Fu Musical by Jerungdu Theater. Much laughter of me that actually wishes someone would take me to this...because good or bad, I'm pretty positive it would blow my mind (and possibly provoke blowing chunks).
Funny Sound of Music Girl
Minneapolis Star Tribune, Free Time, Jarrett Smith, August 10, 200
Marvel Ann Theatre (Music by Jerungdu) 2001 Fringe Festival
In Marvel Ann Theatre Company's gender-bending musical, "Funny Girl" meets the Von Trapp family with a dash of "The Nanny" thrown in. Mother Superiority Complex (Gregg Peterson) sends Fanny Dice (Ann Michels) to be the new governess for the two Von Trapp children. There were seven, but Baron Von Trapp lost the others to gambelng debts. The singing family hopes to be bailed out by having a hit at the upcoming Salzburg Festival. Baroness Von Trater (Daniel Allen Nelson) has designs on Von Trapp and perhaps on Fanny, too. But who needs a sensible plot when you've got send ups of Streisand such as "People, people who read people / Are the suckiest people in the world"? (Theater Garage)
Charade Brigade
www.fringefestival.org Posted August 11, 2001 by Christopher (Funny Sound of Music Girl)
I thought this musical comedy was very well written, considering how many twists were thrown in the blender. Fanny Dice was a knock out. She can blow on my dice any day! And Diesel I hope she lives to see her 17th birthday, she was very believable as the angst child from the worst of hilter youth families. A stand up applause for Baroness von Trader she worked that stage as if it were in her own bedroom. Poor Freedick wants to sing but only exceled as the slave boy to his mail man, Dolph. Great eyelashes though. If you missed this show you missed a twisted humourous and slightly sick performance. But it caught the essence of both "queeny musicals" So "Kiss my ass" right back at cha and thanks for the entertainment.
Hey Ho, Let's Grow
Play views the Ramones as a force for (gasp!) maturity
Minneapolis Star Tribune, Jon Bream, Oct. 12, 2001
The Ramones speak to the inner geek in all of us. Michael Donahue can relate. On Saturday, he'll attend his 20th reunion for Elk River High School, where he started playing guitar because of the Ramones. On Sunday, he'll appear in a play he conceived called "Sedated: A Tribute to the Ramones." Kali Wolf plays Joey Ramone in "Sedated: A Tribute to the Ramones.
"At the reunion, everyone's going to think I haven't grown up," Donahue said with a self-deprecating smirk. He has. Sort of. He's the founder and musical director of the push-the-envelope Jerungdu Theater Company, which has staged such offbeat shows as "Surfcracker," a surf-rock adaptation of "The Nutcracker," and the forthcoming "Dragon Fist, Hidden Gerbil," a kung-fu musical.
"Before the Ramones came along, I was sort of like one of these geeks in high school," Donahue, 38, admitted over coffee this week. "The Ramones allowed me to feel like I could be cool." That's one of the themes of "Sedated," which features 29 Ramones songs (including "Blitzkrieg Bop," "Beat on the Brat" and "I Wanna Be Sedated") and brief skits that try to tell the story of the United States' most important punk-rock band, which reigned from 1976 to '97. Self-described ugly outcasts in black leather jackets, these New Yorkers sang about relieving boredom by sniffing glue or going to the beach -- set to fast, furious, fundamental rock 'n' roll. The 2-minute songs were mostly dumb-in-cheek, although the music paid homage to such '60s stars as the Beach Boys, the Shangri-Las and Minneapolis' own Trashmen.
Donahue, a musical eclectic who's a former member of the progressively wacky Minnesota bands Crashdummies and Sesamoid, came up with the idea for a Ramones show during a late-night jam at the Winnipeg Folk Festival. He cites as his favorite bands the Beatles, Rolling Stones, the Who and Ramones -- none of whom he's seen in concert.
Kali Wolf plays Joey Ramone, the group's late lead singer. He prepared for the role by watching several movies, including "Rock and Roll High School" and "Ramones Around the World." "I tried not to intellectualize it too much," said Wolf, 33, who said he has worked mostly in "weirdo theater" with Psycick Slutz and Bedlam Theatre. For "Sedated," Donahue, who plays guitarist Johnny Ramone, has had to adopt a new stance -- guitar slung low and legs spread wide -- for an accurate portrayal. "The show does have a physical effect on you," he said, nursing a sore knee. "Usually, we get actors to do the physical stuff."
ROCK 'N' ROLL (BUT NO SEX) Another departure for "Sedated" is that it doesn't feature Jerungdu's usual "perversion or sexual depravity," Donahue said. The theater specializes in edgy, sexually charged rock musicals, which have been presented at the Fringe Festival, Intermedia Arts and Red Eye, underwritten by grants from the Minneapolis Arts Commission and the Metropolitan Regional Arts Council.
Donahue founded the group in 1995 as a studio band to pursue ideas his bands rejected. Jerungdu has released three albums. The name comes from the Sambia tribe in New Guinea. Jerungdu -- "the essence of maleness" -- is an aboriginal rite of passage to initiate pre-pubescent boys into manhood, Donahue said. He learned about it from a bandmate who was taking Anthropology 101. Donahue said the Ramones helped him with his own evolution. "Not only did we grow up with the Ramones," he said, "but the Ramones grew up with us." Not that the Ramones matured that much. Still, they were significant enough to appear on this year's Rock and Roll Hall of Fame ballot in their first year of eligibility. "Sedated" argues that Ramones fans -- including Donahue -- have grown up.
One character in the play, Sheena, the self-described biggest Ramones fan, addresses the issue near the end. About 20 years after the quartet started, she's pregnant and reflective about the Ramones' influence on her life. "My adult responsibility," she says, "caused me to forget what helped me become an adult." SEDATED: A TRIBUTE TO THE RAMONES Who: Staged by Jerungdu Theater Company. When: 8 p.m. each Sun. thru Nov. 18. Where: Bryant-Lake Bowl, 810 W. Lake St., Mpls. Tickets: $10. 612-825-8949. Jon Bream is at popmusic@startribune.com or 612-673-1719.
Sedated: A Tribute to the Ramones
Pulse, Sebastien Encore, October 27th, 20
Sedated: A Tribute to the Ramones @ Bryant Lake Bowl Gabba Gabba Hey, indeed. For the freaks, tards and other rejects who never got to see the greatest rock band in America, here's a chance to catch prime Ramones post-Joey. Jerungdu Theater offers "Sedated" as part musical review, part sketch comedy and part soul-baring tribute. Transport yourself back in time and follow the Ramones on their road to ruin, complete with tight Levis and Converse.
Jerungdu Dress Up Like the Ramones
City Pages, Max Sparber, November 7th, 2001
Jerungdu Dress Up like the Ramones City Pages November 7th, 2001. Max Sparber In the meanwhile, the Jerungdu Theater Company has decided to tell another life story in 90 minutes: specifically, the life of the Ramones. Rather than using Fisherman's episodic approach, the company has simply dressed up in blue jeans, ratty T-shirts, leather jackets, and jet-black birds-nest wigs and set out to play through the band's greatest hits. The only thing that saves this production from just being a punk variation of a KISS cover band is a series of interstitial sequences in which young punk rockers rush to the stage and cry out things like "You don't need looks or talent to rock!" At one point Joey Ramone's father, played by Chris Huff, is pushed out in a wheelchair and takes the opportunity to berate Joey for not being punk enough (which is fair, as the actor playing Joey, Kali Wolf, is far too pretty and subdued for the role). The father then leaps in the audience, moshing wildly in a pair of ill-fitting Depends. Yes, it's punk, but I can't help feeling that the show might have better represented the Ramones if it had lasted a mere two and a half minutes.
Sedated: A Tribute to the Ramones
Minnesota Daily, Nick Dobbins, October 5th, 200
Sedated: A Tribute to the Ramones. The Bryant-Lake Bowl, 810 W. Lake St., Mpls. Through October 28, call for dates. 8 p.m. $10. (612) 825-8949.
Proclaiming to capture the sights and sounds of the greatest punk band ever, mock-rock band and theater troupe Jerungdu (which means "essence of maleness" in New Guinea Aborigine) presents Sedated: A Tribute to the Ramones every Sunday night in October. The play and musical revue, narrated by the Ramones biggest fan Sheena, takes you on a "humorous musical tour exploring what it means to be a Ramones fan and a punk rocker," which apparently means a joke band playing Ramones songs and making punk jokes. It might be a good time if youÕre a fan of the band; then again, it might be dumb as hell.

Do-Mo Thespianism
City Pages Winter Issue á Vol 21 á Issue 1044 á 12/6/00 By Peter S. Scholtes
Can a rock band-cum-theater company turn its audience into enlightened perverts?
Can you identify Annette Funicello and Elvis in this photo? Kari Ann Shiff (far right), Barry Cole (second from right) and cast in Jerungdu's farfetched beach musical The Surfcracker!
If nothing else, Jerungdu sure know how to leave you with an unwelcome image. Like the devil sodomizing Jesse Ventura. Or a drag-queen zombie singing, "I Fall to Pieces" as her limbs break off like icicles. Or a naked female corpse jerking to life in a tub full of bloody bath water. These and other gifts to the psyche came recently via the rock band-cum-theater company's "Haunted Whore House," an adults-only tour staged in somebody's south Minneapolis flat over Halloween weekend. With the kids safely home developing cavities, vampires in lingerie snapped at patrons' necks before fake policemen shoved everyone out the back door--no "hands off" policy here. Yet it all felt like a boiled-eggs-as-eyeballs childhood flashback--maybe because all the performers exhibited that giddy will to freak you out.
A month later, the red-haired hostess of the whorehouse, company director Mo Donahue, is just as engaged in her role as a director playing a director of a movie within a dream within a play. At the center of this metaphysical pastry are Elvis Presley and Annette Funicello in a beach flick with a gang of surfer thugs called the Rat Finks. It's all just another day in the dream-life of Jerungdu, the first off-script run-through of their latest production, The Surfcracker! A Surf Adaptation of the Nutcracker, which opens Friday, December 8 at the Loring Playhouse. "You're still stoned here," Donahue reminds one actor, stepping out of character to direct svelte blonde Jon Maggs. "What's my motivation again?" he jokes. Grinning mischievously into the wall mirror of the rehearsal studio, Maggs ducks between Annette's legs before sprawling out on the hardwood to fire off his lines. He's playing Surf Dude as a flamboyant queen, though the character represents Elvis's romantic competition for Annette.
Filling the Mouseketeer role is Kari Ann Shiff, a waifish beauty who won a Sun Country Airlines-sponsored smiling contest earlier this year. Dubbed "a good little whore" by her director in Frank Theatre's Threepenny Opera, the intensely focused Shiff has strong pipes--thankfully, she's no Annette--and her keen easily competes with that other major component of the troupe: the band.
These stubbly blokes in jeans and wool sweaters look like disheveled groundskeepers. But keyboardist Montana Scheff, drummer Mike Olszewski, and guitarist Daryl Yanke gracefully meld Tchaikovsky and Dick Dale, working under the loose guidance of Mo's bespectacled younger brother Michael, who wore the Ventura mask at the whorehouse.
Loose is the key word here. Having staged only two other such rock musicals--Mahoney's Mirror: A Sci-Fi Musical Comedy Adventure, and Barneezlebub: A Hillbilly Porn Opera--the Donahues don't exactly have a hard and fast formula for...whatever it is they're trying to do. "Twenty heads are better than one," MO declares, opening the process to the group's collective dementia. This loose approach would seem to fit loose mores. Put another way, Jerungdu embody slackness in both the Richard Linklater and Yellowman sense: They're easy. And just to add to the confusion tonight, sexual or other, MO reads lines for two absent actors--male and female. At least you can see the convoluted story coming together behind that intense stare of hers.
Far as anyone can tell, Rob Eichinger's wry plot goes something like this: Girl falls asleep with Elvis doll and dreams she's Annette in an Elvis beach movie. Having killed "Mr. Disney" with "blue balls," she falls in reluctant lust with the big E: "I even like that he's a little dumb," she declares. "I don't know what I ever saw in that beta-male Surf Dude." Then she flirts with lesbianism, and Elvis's insecurities mount: He demands more and more "improvements" to the script. ("How do we get a goat on a surfboard?" asks an extra, adding with a blank tone that "Elvis is one weird son of a bitch.") All of which allows ponytailed actor Barry Cole to make his Elvis a broader caricature of the prototypically shameless, dick-swinging male--like Robert Smigel's Clinton on Late Night With Conan O'Brien.
Perhaps only Dr. Jerungdu, as the band proper has taken to calling itself, have their parts nailed down at this point: They play themselves. Albeit with British accents. At the denouement, they even get their own slide-projected outro: "The rock 'n' roll band Jerungdu would eventually enjoy a brief period of success in the music business as a novelty act with their cult hit, 'Heavy Medley of Christmas Classics.'" (The medley will be available on a forthcoming cast CD.)
All else is happy chaos: cues, blocking, the dance numbers choreographed by Heather Brady. And MO's emphatic calls for quiet fall on ears not used to taking orders--including those of her pigtailed 11-year-old daughter Ariel, who plays Lisa Marie Presley. Watching the action from the floor, Ariel glances over, sees my pen, and starts grilling me loudly. "Are you supposed to be here? Did you sneak in?" "I'm not supposed to be here," I deadpan, "but don't blow my cover, okay?" She stares me down with a look that says, "I'm going to tell." But suddenly she hops to her feet to join the band. It's time to sing gleefully along with Uncle Mike's "Heavy Medley." Rock opera, porn opera, plays that mention blue balls...
How did two siblings from Rogers, Minnesota, go so horribly wrong? The youngest of eight kids, Jerungdu's founders--including brother Joey Donahue--were raised in a "good, Catholic, sexually repressed Christian family," according to Mo. "As a teenager Michael wanted to be a rock star," she says. "I can remember that the very first song he wrote was 'God Are You Ugly Tonight.' I think there was just that kind of urge in both of us to break out of that boring rural lifestyle." Looking at them now, I'm astounded to learn that Michael is 37 and MO is 40. "Don't we look young?" MO says. "I think if you maintain a really adolescent sense of humor, then you stay young." "Yeah," Michael laughs, "by being repugnant and juvenile until you're 80." Though Joey Donahue isn't involved in The Surfcracker!, he has collaborated with his siblings since they were teens, when the trio used to sneak into the legendary Longhorn to see acts like Joan Jett and Iggy Pop. "Our parents were completely exhausted with raising children when they got to us," Michael says. "So they would literally take four-to-six-week vacations in the middle of winter, and they would leave MO in charge of us."
The slightly older MO was a good teacher: She showed her brothers how to draw hand-stamps on their wrists to get through the Longhorn's doors and, that failing, how to sneak through the punk bar's kitchen. To these kids, theater always seemed a natural companion to rock 'n' roll--particularly for MO, who sharpened her teeth in the Rocky Horror school of acting, usually playing the drag queen, Frank-N-Furter, "because he was the star," she says.
Michael and Joey played in two Zappa-inspired bands through the Eighties and Nineties--the Crashdummies, then Sesamoid--before founding Jerungdu in 1995 as a band only, taking their name, supposedly, from a New Guinea aboriginal word meaning "the essence of maleness." Even before rock opera entered the picture, theater had always figured prominently. Michael cites a Halloween gig at the Loring where everyone in the band dressed up as renowned Minnesota artist Scott Seekins. "He showed up," laughs Michael, "and here's four of him onstage doing a Kiss cover." In 1998 the group joined the Kale People's Liberation Army section of the May Day Parade, jamming in clothes made of nothing but kale leaves, while Wavy Gravy hopped along for the ride. (The following year some Kale soldiers were ticketed for indecency.)
Doing actual theater wasn't such a leap. "I kind of realized several years ago that I had limitations as a lead singer," Michael says. "And I view the frontperson for a rock band as the emotional conduit between the material and the audience. There's a limitation as to how well I can deliver a song. But if I had a dozen actors that have a lot of different things that they bring to the table, I think that's a far more compelling rock show." Which doesn't completely explain the utter weirdness of the works that Jerungdu produced as a rock-theater entity.
It's somewhat telling that Mahoney's Mirror and Barneezlebub were co-written by Surfcracker! cast member Chris Huff under a pseudonym. "My mother didn't need to know what I was doing," he laughs, explaining that she was active in local theater and has since passed away. Mahoney's Mirror, a collaboration with Bedlam Theater, posited that Nixon and Bill Cosby (or giant puppet likenesses thereof) might be twin evil rulers of opposing universes, both of which disappear into a giant asshole. Barneezlebub dallied with much more taboo subjects. The play featured a scene called "good touch" where a hydra-headed incarnation of PBS's purple dinosaur sang to little children about the upside of molestation. "We were making a commentary on Barney," Michael says. "That this is insidious television that is actually corrupting your children in the sense that it's encouraging this lame, feel-good attitude about life that isn't real." "Sometimes we incite the audience," adds Mo. "That play was the most interactive in that way because we had strippers go out in the audience and lap-dance. And when I danced," she adds, laughing, "I got tipped!"
Certainly, the climactic Annette-Elvis consummation scene in The Surfcracker! will incite something. In rehearsal, the two actors run through a seductive kung fu fight--Annette flushed but still resistant, her pursuer frustrated but determined to take care of business. "Luckily, Elvis is a black belt in every conceivable martial art," he boasts. (Next Jerungdu production, scheduled for spring: AssAssIn! A Top Secret Kung Fu Musical.) Finally, after a few Matrix moments, Annette relents: "Take me! Take me almost all the way there!" As lines like that indicate, Jerungdu are something more than a dirty Dudley Riggs--more ambitious than just reliable comedy that takes off its drawers.
Michael and MO are on a mission to liberate sexuality from the sexes. To make us (gulp) better people. But the question remains: Wherefore? "One theory is that in Catholicism, you're taught to be repressed," says MO, when I ask about Jerungdu's preoccupation with bodily functions. "Sexuality is bad, your body is bad, masturbation is bad--and at the same time the Catholic Church is filled with very visceral, bloody, gory, naked-Jesus-on-the-cross kinds of pictures." "Also, since we have a relatively small audience, it's like we've got to be outrageous," Michael adds. "Because it's not like we have anything to lose. And so being as outrageous as possible is the only thing we can do to really make a name for ourselves." "Well I don't know if it's the only thing that we can do," laughs Mo. "But it's the most fun thing that we can do.
Surfcracker LP
KUNM Intranet
From the JERUNGDU THEATER CO. in St. Paul comes "The Surfcracker!" This not-for-kiddies soundtrack features excerpted scenes along with disco, surf & Link Wray treatments of Nutcracker tunes, but the must-hear is the final cut, a 7-minute Metal Medley of highly-tattooed Christmas carols.
The Surfcracker at Intermedia Arts
St. Paul Pioneer Press, 12/19/99
For those of you who are really feeling tense this holiday season, here's something you can go out and see tonight. The experimental rock group Jerungdu offers a twisted take on "The Nutcracker" called "The Surfcracker." Set in 1976, this story finds Clara passing out at a Christmas disco party, only to wake up as the star of a 1960s surf movie. The music, dancing and adventure that ensue are unconventional, to say the least. 8 p.m.; 2822 Lyndale Ave. S., Mpls.; $12-$6; (612) 871-4444.
The Surfcracker at Loring Playhouse
Pulse, Ryan Knoke, 12/6/00
The Surfcracker @Loring Playhouse What do a doll, a strung-out chick named Clara, surf music, and The Nutcracker have in common? If you thought Ballet of the Dolls put a twist on TchaikovskyÕs tour de force, wait until your senses get a load of Dr. Jerungdu and the Jerungdu Theater CompanyÕs latest mutation. The Surfcracker is a musical comedy melting pot of Beach Blanket Bingo, Elvis, the Surfaris, and the familiar melodies of TchaikovskyÕs Christmas classic played to a surf beat. Follow ClaraÕs groovy music and dance-filled adventure through a drug-induced, doll-inspired dream. Annette would be proud. Opens December 8. 10:30 p.m. $15. Continues Wed.-Sun. through Dec. 30, times vary. Loring Playhouse, 1633 Hennepin Ave., Mpls., 612-486-5757
Surfcracker an Amusing Shambles
St. Paul Pioneer Press, Dominic Papatola, 12/12/00
The degree to which you are sick and tired of ``The Nutcracker'' is the degree to which you will enjoy Jerungdu Theater Company's ribald contribution to the theater community's generally placid lineup of holiday offerings.
There's not an image or a move in "The Surfcracker!'' that doesn't roughly skewer the oh-so-familiar Christmas-flavored ballet. For instance: We're not 10 minutes into the show before we see our young heroine Clara -- a knocked-up, roller-skating, bowling-alley employee in this case -- snorting cocaine off the thigh of one of her fellow waitresses. The central idea of the show -- setting the familiar Tchaikovsky score to a surf beat -- is a novel one, and Michael Donahue and his bandmates in Dr. Jerungdu do the kind of job adapting the music that makes you laugh out loud (you've never really heard Tchaikovsky until you've heard him played with the familiar percussion intro to ``Hawaii Five-O''). There's also a medley of heavy-metal Christmas carols at the end (``Jingle Bells'' set to ``Smoke on the Water,'' among other classics) that's must listening.
But you can hear this music on the official ``Surfcracker'' CD. Actually going to the show means enduring the script by Robert Eichinger and Michael and Mo Donahue. It is an unqualified mess. Borrowing from Elvis flicks and beach-blanket movies, it's a jumbled, really nasty slurry of simulated gay and straight intercourse, assorted fetishes and one leather bathing suit -- but not quite as titillating as it might sound to some of you more adventurous voyeurs out there. There's but one decent performance in the whole thing -- Kari Ann Shiff's wide-eyed turn as Clara. The rest of the acting has a ``hey-kids-let's-put-on-a-porno-flick'' quality about it.
Just how big a shambles is it? When I asked the woman at the box office how long the show would last, she said, ``about 60 minutes.'' One hour 52 minutes later -- following a jailbreak by about a dozen patrons after the first hour -- the survivors finally staggered out. ``Whad'ya think?'' asked a 50-ish man who, with his wife and another couple, emerged looking as if they'd bolted out of ``Springtime for Hitler.'' ``That must'' said one of the women in the group, in a definitive example of Minnesota Nice, ``have taken a lot of rehearsal.'' But with all of that, I'm still not certain ``The Surfcracker!'' can be completely written off. A couple of Fringe Festivals ago, I saw Jerungdu paint a certain purple children's show character as the anti-Christ in a production called ``Barneezlebub: A Hillbilly Porn Opera.'' Hemmed in by the festival's hourlong time limit, Jerungdu didn't have the time to get all self-indulgent. What I saw was ill-mannered but intelligent and pretty damn funny. There are bits and snatches of that in ``The Surfcracker!'' but you have to look very, very hard.
Wizbang.Emuverse.com
OKAY SO... There's this local band/theatre troop called Jerungdu that does these musicals like once a year, the best of which was Barneezelbub: A Hillybilly Porn Opera, and there's this part where this 5'2" flamer is shooting a music video, and the backup jocks keep screaming "Football is a great game!!!" Afterwards, the flamer pisses on the crowd. I went up to him afterwards to make sure he had a water hose going on, cause I got hit more than anyone else. He said it was cause he thought I was cute. Anyway, I think they have MP3's here.
Barneezlebub
City Pages February 10, 1999, Peter Ritter
Since this production is billed as "hillbilly porn opera," it seems unlikely that many parents will take their children to see Barneezlebub at the Bryant-Lake Bowl under the mistaken impression that it has anything to do with Barney the purple dinosaur. Just in case--don't. In fact, don't even let your kids read this review. That said, the Jerungdu company's Barneezlebub is one of the better porn operas to grace the local stage in some time. The title character (Raine Hokan) is a malevolent purple hydra who teaches his youthful wards the relative merits of "good touch" and "bad touch." Josh Reinitz stars as a naive hick named Jimmy, whose naive hick girlfriend Tammy Two-Hole (Aura Podulke), is sucked into the exciting, fast-paced world of adult feature film by a dominatrix producer (Mary Winbauer) and her bottom (Jon Maggs). Since this is a porn opera, there is a great deal of singing mixed in with the simulated coitus, ranging in quality from the amusing ("I Could Date a Stripper, But I Couldn't Date a Porn Star") to the merely annoying ("Purple Helmet"). Fittingly, the whole lurid spectacle ends in fisticuffs on the Jerry Sprung show. Don't let your kids watch that, either. 9:30 p.m. on Friday. Bryant-Lake Bowl Cabaret Theater, 810 W. Lake St., Mpls.; (612) 825-8949.
Barneezlebub: A Hillbilly Porn Opera
Minnesota Daily, Scott Romsa
Ya got nuthin' ta do this here Friday? Why don't ya all go down to the BLB for some of that honky-tonk porn. That's right, y'all can get some culture there, seein' as it's an opera n' all. Enjoy n' don't fergit ta bring yer chew n' the missus, 'cuz it sold out last week n' this is the last performance.
Schlock and Roll
City Pages March 3, 1999, Simon Peter Groebner
Barneezlebub: A Hillbilly Porn Opera, February 5-12-at the Bryant Lake Theater
One of the major shortcomings of local music is that very few rock bands are willing to experiment with narrative styles beyond the tried-and-true verse-chorus-verse. Gargantuan song structures requiring Roman numerals to organize? They're hopelessly out of fashion and probably always will be. But that hasn't discouraged schlock-rock band Jerungdu, which has pulled off one of the gutsier experiments recently attempted around here: a rock opera.
For years Jerungdu's Michael Donahue has occupied the fringes of local critics' collective consciousness with joyful nuisance bands like the Crashdummies and Sesamoid. His latest band hit its stride, however, with Barneezlebub, which attempted an adroit fusion of several easy satiric targets _Barney the Dinosaur, hicks, porn, the Book of Revelations, and Jerry Springer_ and resulted in a genuinely profound statement on the state of sex and television in America. I'll buy lunch for the next band that can compose nine songs, opus-style, that integrate so many seemingly dissimilar topics.
The band donned hillbilly garb and performed from a makeshift orchestra "pit," while director Mo Donahue's cast of imitation porn stars took most vocal duties. (Mary Winbauer, as lesbian dominatrix, was particularly commanding.) Unfortunately, the music was limited to a wacky Dr. Demento tone, though you would hardly expect anything else in this case. If it seems unfortunate that the music from Barneezlebub was limited to two performances, here's the bright side: The band's next multimedia production, intriguingly titled Mahoney's Mirror: A Sci-Fi Musical Comedy Adventure, will come to the Red Eye in June (the soundtrack will be released in April). I'm not sure if Jerungdu's impression on the sci-fi music community will become as great as their influence on the porn opera community, but I'll be rooting for them.
Your Guide to Unraveling the Fringe
St. Paul Pioneer Press, Dominic P. Papatola
The Minnesota Fringe Festival is theater in the raw, and so it's not really fair -- not to the performers and certainly not to yourself -- to expect to find next year's Pulitzer Prize for Drama playing before an audience of 12 at some coffeehouse at Nicollet and Franklin. To get the most out of the Fringe, then, it's necessary to adjust your sights. Good shows -- really good shows -- are scarce, indeed. But there's no shortage of provocative ideas, strong performances and miscellaneous terrific moments. Here's where you'll find some of them:
"Barneezlebub: A Hillbilly Porn Opera": Blasphemous, obscene, exploitative and profane... but in a good way. Perhaps the fringe-iest show of the Fringe, this cheeky (literally) musical delivers a thermonuclear blast of cultural criticism using the most politically incorrect methods possible, courtesy of local band Jerungdu. But how can you not like a show that posits that the cuddly purple dinosaur of children's television is the spawn of Satan and whose climax includes the strangulation of Jerry Springer? That's catharsis. Troy Mund's turn as the Big Evil Purple One is inspired in a show that will go anywhere and say anything.
Barneezlebub: A Hillbilly Porn Opera 99' Fringe
City Pages, Peter Ritter
Although Vice President Al Gore was in town for a campaign meet-and greet on Friday, it's a good bet he didn't come anywhere near the opening of Jerungdu's rock odyssey-cum-porn epic. For theatergoers who are clamoring for a better class of locally produced porn opera, however, Barneezlebub is a must-see. It is nearly impossible to describe either the plot (a malevolent purple hydra based on a certain children's television icon lures an unwitting hick with a superfluous orifice into the exciting, fast-paced world of adult feature film) or the operatic score-except to say that Tipper would most definitely not approve.
Songs from Mahoney's Mirror: A Sci-Fi Musical Comedy Adventure
Toast, Weiss
When Frank Zappa died (g.r.h.s.) a small part of his soul went to Jerungdu. The rest of the band is a mix of hard edged folk, wit, and 70's rock chords... actually there is a lot of 70's in this album, including Jethro Tull's flute and Frampton's vo-coder. This is the greatest body of 70's cultural criticisms I've seen since the PBS rebroadcast of all Dick Cavet's old shows. Or, maybe it was the Brady Bunch Marathon on Nick at Nite. It all starts with a frightening visage of R.M. Nixon's face, the right half belonging to the young Bill Cosby spliced on the cover; Jerungdu's tender mercies presented for your inspection. The first track 'Vortex' is the Nixon Presidency rendered as an adventure tale told from inside ol' tricky Dick's cabinet probably from the perspective of G. Gordon Liddy. If the line "I'm a heavy metal faggot for Satan" in 'Thrill and Kill Amusement Park' doesn't say fun to you, what does? A little like Rocky Horror but with more guts, and a nod to Lou Reed. 'Shale Like Tofu', by far the scariest track on the album, has Bill Cosby, the omniscient Jello man, cast a savior man to show all a better way. If nothing else, this track is worth listening to just for the Homer Simpson-esque reverence for a four dimensional donut, hmmm, donut. Recommendation: get it now. Buy buy buy. See the show.
Mahoney's Mirror
City Pages, Peter Ritter
Last Saturday, this camp "sci-fi musical comedy adventure" ran for almost two hours without a bat attack. When the bat finally did show up, the weirdness on stage had already gotten so out of hand that a winged rodent fluttering in the rafters of the theater and swooping dangerously close to the heads of the atergoers seemed almost normal. Based on a script by Michael Donahue, Newt Skink and the aptly named Bedlam Theatre crew, and featuring the musical stylings of Jerungdu, The Twin Cities leading purveyor of rock opera, Mahoney's Mirror defies classification. It might be summarized as (take a deep breath) a multi-media glam rock Seventies sci-fi odyssey about a cop names Mahoney (Gary Geiken), who harnesses an energy aura that controls all bad luck in the universe; meets a pretty girl (Kari Ann Shiff) and a fly named Wally (Dan Smith); gets lost in a parallel dimension ruled by Richard Nixon and Bill Cosby; and ends up at the mercy of a Satanist drag queen names either Felix or Angelique (Jon Maggs). Add two very large and accurately joweled puppets of Nixon and Cosby (designed by Julian McFaul), a really big ass, and a hit parade of such Jerungdu classics as "Chateau de la Flambeau", "Shale like Tofu (Tofu like Shale)" and "Sexy Satan" and you have a whole lot of something. Perhaps Mahoney himself said it best while being tortured in the Nixon/Cosby nether world: "Oh God this is horrible. Transidentally horrible.
Mahoney's Mirror is a Musical Sci-Fi Trip
Minneapolis Star Tribune, Rohan Preston
The Sci-Fi Rock and Roll musical "Mahoney's Mirror" is like no other show around. With two screens playing discombobulated images of rockets exploding, with large talking head puppets of Richard Nixon and Bill Cosby, with a wigged out rock band tearing away and even a nude, dipped-in-red performer streaking across the stage, this musical comedy really could be a bad acid flashback. The experimental Bedlam Theatre production, in collaboration with the band Jerungdu, does not add up to much of a conventional production. The main story line focuses on a boy who grows up to be a Marilyn Manson-style, Satan-worshipping, band-fronting androgyne. It serves as a not-very-glossy gloss on the guitar crunching music much of it written by Michael Donahue and Newt Skink.
What this loud show lacks in dramaturgical and literary merit, it tries to make up in fearless presentation and disaffected attitude. "Mahoney's Mirror" has lots of moxie. Director Maren Ward has one gnarly-mouthed actor swinging from the ceiling, his eyes glazed like liks a rabid creature from a futuristic zoo. She also places performers in caverns that resemble the open jaws of sharks. The 11 actors, most with multiple rolls, throw themselves into the show, opting for raw "authenticity" over polish.
This sci-fi musical comedy should come with some warnings: In addition to Kool Aid-colored nudity, "Mahoney's Mirror" features plenty of vulgar language and a journey through a bodily orifice, an apt metaphor for the roughage this production asks us to digest.
Who: By Michael Donahue Newt Skink and Bedlam Theatre. Directed by Maren Ward with choreography by Hijack and puppetry by Julian McFaul. Where: Red Eye, 15 West 14th Street, Minneapolis. When: 8 p.m. today and Saturday. Review: A trippy experience that resembles a music video, this rock and roll musical might leave you banging your head. Tickets: $8 to $10. 612-870-0309.
Mahoney's Mirror: A Sci-Fi Musical Comedy Adventure
Minnesota Daily, Rob O'Brien
The U.S. Government has been trying to suppress the facts about extra-terrestrials for over 50 years. Red Eye Theater and the band Jerungdu are collaborating to reveal the secrets. Mahoney's Mirror, which is a sci-fi musical comedy adventure, promises to bring the truth to the people. The show's mixture of music, puppetry, video, animation and acting will put an end to this conspiracy through laughter and song.
Re: Armstrong/Hines
www.writerswrite.com (Anonymous)
Posted by Dimon (24.183.222.24) on January 20, 2001 at 20:50:55: In Reply to: Re: Armstrong/Hines posted by Footlights on January 20, 2001 at 13:58:36: Yes, very talented...love that western-mid-western language his works speak, both literally and symbolic. I am very familiar with groups such as the one you participated in...dynamic and full of energy, they all have an angle that excites. (Well, most of them) There are a few that currently intrigue me...though my tastes are eclectic. I enjoy most everything between classic and shock. Jurungdu, for example, could be considered the Marilyn Manson of thespianism...a company based in Minneapolis, their work motivates thought. You should look them up, if you don't know of them already. Ummm...hold on, ok, here's a link that you can read a review from. The review, incidently, lends token clues to my own personal identity, though only one other person may see it. lol,,,and I'm not about to write it out loud! So, anyway, thanks for the warm comment,,,I truly appreciate it, though (like any performer)my heart was lifted more from the understanding that you were moved by it, rather than the compliment itself. Thanks again...and if you keep tabs on other writers like Sam, please let me know if you come across something good... :)
The A List
City Pages, Peter Scholtes
I'm not familiar with the punk ensemble Psychosluts, and Super Bowl Baby smells a little like a joke rather than an actual band. But I can't think of a better way to let off all that much-worried-over-post-Super Bowl aggression than to dance like a five-year-old to Dr. Jerungdu. Perhaps better known the theater-performance project than a band, the Zappa-inspired outfit manages to play just about any genre of music you've got, and play them all well, before mixing and mismatching and destroying.
That's Doctor to You
Minneapolis Star Tribune, Free Time, Vickie Casey
On the advice of Kiss' Gene Simmons, the local theater/music collective Jerungdu has changed it's name to Dr. Jerungdu. Backstage after his concert, the master of marketing informed the group that its name was too hard to remember and no one would be able to spell it. However, Simmons accurately pointed out that no one forgets the name of his or her doctor. The newly minted group tells I.W., "Leave it to Gene Simmons to point out that you can be an over-educated idiot."
Jerungdu: The Pink and Brown Album
Pulse (T. Alexander)
Jerungdu sure has a history... that and the goofiest name since Chumbawumba! Jerungdu are responsible for two or three super-edgy theatrical rock extravaganzas in the Twin Cities, and are now pleased to be releasing a collection of songs from their wide and varied history. The songs on Pink and Brown are recordings (in some cases re-recordings) of things they have released as demos over the past five years.
Michael Donahue and his crew have the goods. They are glib, snotty, and well versed in the language of classic rock styles. The write-ups in other publications (and they are many and favorable), have compared Jerungdu to Zappa--Close, but no cigar--they have the depth and theatrical aspects down, but they are also that much like Meatloaf. An even better comparison would be Lol Creme & Kevin Godley, those cranky pop geniuses from 10cc.
Pink and Brown has all of their hits. "Purple Helmet" with it's hyper-clever NFL spoof, plus "Dan Electro," which sports the heart of rock and roll ethic and serves as a manifesto of sorts, are quite memorable and you find yourself humming them all day.
Pink and Brown seems to be about the music rather than the theatrics (even if some of the music appears in their plays). On of the coolest things about the record is that it gives the feeling of walking from room to musical room. Each song is dressed in different clothes... some songs anthemic and uplifting and some just plain ol' rock. The enthusiasm of the players helps make it sound a little bigger than life. You could not go wrong buying the record or seeing their show. It's a cinch though, that they won't get an NEA grant anytime soon, but that's OK.
Just one thing... on the inside of the sleeve is the inscription "pink innocence lost is brown wisdom," and there is no satisfactory explanation for wisdom having the color brown as its designation.
Spins
Minneapolis Star Tribune, Free Time, Vickie Casey
Jerungdu's "The Pink and Brown Album" has a cabaret-like air, and the band's offbeat lyrical twists make it an interesting trip off the beaten path.
Demo Review
Squeeler, Jason Josephes
The word Jerungdu comes from Sambia, an Aborigine tribe in New Guinea. It means "The essence of maleness. After reading this sentence in Donahue's letter, I was expecting a prog-rock wankfest. Imagine my surprise when Jerungdu delivered the goods. A solid quartet with eclectic leanings toward tribal instrumentations and off kilter vocals. If that's not enough, they came to rock too. All four members are veterans of respected Minneapolis bands (Exploding Head Trick, Rhea Valentine and Sesamoid among them.) The best cut "(Make Me a) Warrior," is quite reminiscent of Zappa circa "Burnt Weenie Sandwich." Come to where the maleness is. Come to Jerungdu. (Jason Josephes)
Demorama: Top Honors
Cake, Deneen Gannon
Excellent incorporation of the violin into this groups compositions highlights this strong submission. Jerungdu has six songs on this demo, all of them well-crafted and performed. Jerungdu's work is difficult to define; likening them to a dirtier version of our local band The Auto Body Experience might not be far off. All their songs show solid rock/pop tendencies, but material like their first song, "Electric Love Lizards" has strong jazz influences throughout. The violin, on this tune especially, is dynamite. Song two, "Solve my Problem" is so completely different from the musical style of the first that I had to double-check the cassette and make sure i was listening to the same band (this is good). Song two is a conventional rock tune, but again with great violin. The chorus refrain on this song is really cathcy, which lends itself to lots of car-alongs. The rest of the cassette continues to demonstrate this bands ability to create music that is creative, interesting, and good. I also need to mention their quirky, humorous lyrical work which can be incredibly amusing, especially on song three, "Eblo Spiritual." An overall excellent submission, highly recommended.
Demo Review
Jersey Beat, Jim T.
There aren't many generalizations you can make about a band when every song on a demo tape sounds different. The only thread running through these five tracks is a wacky sense of humor and excellent production. "Purple Helmet" is sort of a Pansy Division parody about why "certain" guys love football, "A Man Fell In Love With John Today" tells the story of a guy who goes to a bar and gets the hots for a transvestite, then has to tell his pals he knew all along... Both of these tracks are robust rock of no definable genre. The remaining three tracks aren't as out-and-out goofy, but still go off on weird tangents (jazz, punk, noise) that might best be described as post-modern Mothers Of Invention. Ambitious, weird, funny... God, I wonder what they're like live?
96' Year End Review
Minneapolis Star Tribune, Jim Meyer
"Purple Helmet" by Jerungdu (demo). Explores the homoerotic symbolism of the NFL, using every appropriate rap and metal cliche' available. Mad genius from a band to watch.
Music Poll
City Pages, Deneen Gannon
Jerungdu and the Pins both submitted to Demorama some of the most interesting, creative music I've heard locally in a while.
Demo Review
Cosmic Debris E-Zine, D.J. Johnson
DAMN, this is a fun tape! A demo tape, yet. These guys from Minnesota may wear their influences on their collective sleeve, but they have so much fun with the music that you just don't care about that part. "Electric Love Lizards" sounds like a track that Zappa forgot to release, but it's the work of Michael Donahue, and it's a riot! Imagine a string quartet in the depths of a speed binge at 7 in the morning and getting pissed at one another, using their instruments to communicate their attitude problems. The fact that no traditional rock instruments ever come crashing into this recital from hell makes it all the more perfect. The violins are never exactly in tune, either, which adds to the mayhem. The word "Edgy" requires two more "g's" to correctly convey that sound. "Electric love lizards shining down. Electric love lizards all over town. Electric love lizards killing for fun. Electric love lizards, you can never be one." There are some questions raised about the romantic lifestyles of certain 17 year old girls in these lyrics somewhere, among other twisted images. I love this song. Newt and "the right" will hate it.
My pick for runner-up on this tape is "Dan Electro," in which one calm voice and one high-pitched hysterical voice sing the following...
"Can't afford a shrink
So I'm gonna buy me an electric guitar
And if nobody listens to me
I'm gonna turn it up real far."
Raise your volume if you can relate. Even the more serious songs (written by Mark Kauffman) are fun to listen to. "Judgment Day" has elements of David Gilmore and The Moody Blues and I dunno ` together with what sounds like a dentist's drill (though I'm pretty sure it's a synth) in a bizarre mash of sound that I seem to be listening to a lot this week.
Zappa and Tubes fans will get a fix from the final track, too. "The Jerungdu Ritual" is nearly as much of a kick in the ass as "Electric Love Lizards," and is almost as far over the left field wall, too. If Jerungdu keeps writing songs that are this much fun to listen to, they'll have it made. Somebody's going to notice.
Demo Review
The Dancing Hotdog, (KK)
On first listen, I thought this plasticization of puerile Pablum was buy-out music for a Calvin Klein Jeans ad. Whilst hearing these "Ahem!" songs I had the impression that someone was raising a periscope up my inseam. "Cough, Cough!" But by Holy Jimeny Crickets! By the third listen I had stripped away the veneer of psuedo-decadent jacketing and discovered these "Jean Yushes" at their real vocation. This collection of former camp counselors has but one goal... that is to make sure American teens develop healthy sexual relationships. I say good on em' for it and I'll remember to give Cal a copy of the tape when next I see him down at the school yard.
Jerungdu 2/96 (Demo)
Dead Angel #20 (Internet)
HIGHLIGHTS: "Electric Love Lizards," "Solve My Problem," "Dan Electro" This is... MOST ODD. By far the strangest thing DEAD ANGEL's had the chance to hear in a while. Almost like a classical (well, sort of) version of Frank Zappa -- that is, excellent musicianship but executed in strange and perverted structures and accompanied by strange and occasionally dirty lyrics -- so that alone should probably tell you if this is for you or not. The first track ("Electric Love Lizards") is the most "classical" in tone, while the second ("Solve My Problem") actually rocks and has an incredibly cool guitar tone (at least i THINK that's a guitar -- maybe it's an electric violin?). "Eblo Spiritual" is slower, slinkier, and features a vocal that sounds like it was lifted straight from HOT RATS via Beefheart. "Judgment Day" is some kind of deranged blues rag (bizarre as it may sound) buttressed by what sounds like banjo, heavy bass, horns, and lots of other fun stuff. "Dan Electro" is another slice of skewed rock that rocks in a very new-wavish kind of style, assuming that Zappa had ever been new-wave, anyway. The lyrics are funny, which doesn't hurt either. "The Jerungdu Ritual" is just plain weird and filled with lots o' extremely Zappaesque guitar wanking, which will either excite you to the point of needing diapers or make you run howling into the hills, depending on how you view the dead mustachioed one.... As far how you can get your hands on this if you are so inclined, well, i'm not sure. My wife (darling! peach! buttercup!) cleaned house and moved everything so now i can't find the li'l piece of paper this came with, so I'm not tremendously sure that the address i'm about to cite is correct, but i'm pretty sure the band can be reached at: [Jerungdu@aol.com]. If I'm wrong, I'm sure Jerungdu will tell me so and i can run a correction in the next issue...
Ram's Album Reviews
The first song (Crystal Ball) in the first demo opens with some really cool drums and a didjeridu, which unfortunately are a bit too low in the mix. The drums and the minimalistic guitar really mix well, and the vocals are fairly decent. The originator of this project wanted to use obscure tribal instrumentation over western rock 'n' roll. I think the obscure tribal instrumentation parts sounds really cool, and makes for a novel sound. The rock 'n' roll sound is fairly decent also, but it's nothing new, and the music overall sounds like a cross between Police and the Beatles. More than the rock 'n' roll sound, what is appealing is their use of minimalism combined with the tribal instrumentation. The second demo is more interesting: it sounds like a cross between Danny Elfman and Jethro Tull with a violin instead of a flute (well, at least the first song does). The rest of the songs have a more generic rock sound. I think Jerungdu would be better served by maintaining a more experimental sound, and leaving out the rock parts as much as possible (in particular, the first songs of both demos are excellent). The songwriting itself is pretty good: the songs are pretty catchy and innovative. I am not sure what the deal with this project is, but I recommend checking it out if you're into subtle musical experimentation.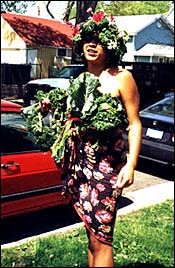 Raising Kale: True Confessions of a Vegetable Offender
City Pages, Miki A. Mosman, City Beat - Vol 20 - Issue 962 - 5/12/99
My mom always told me that eating my vegetables would help me grow healthy and strong, but she neglected to mention that wearing them could get me in trouble. So when friends asked me to join the Kale People's Liberation Army section in Minneapolis's May Day parade on May 2, I agreed without hesitation.
My mom always told me that eating my vegetables would help me grow healthy and strong, but she neglected to mention that wearing them could get me in trouble. So when friends asked me to join the Kale People's Liberation Army section in Minneapolis's May Day parade on May 2, I agreed without hesitation.
However, that bliss was not to last. As we entered the park, our float dropped out of the parade line and stopped in front of the recreation center. While some members of the Army chose to change into street clothes right there, three of us headed for more privacy in the bathrooms. A Park Police officer approached and informed us that if we didn't put on "decent clothing," we would be ticketed, and that all of us had to leave the park. Mossman
No problem. We didn't want problems. We told the officer that we would change inside and then leave. But while peeling off our kale in the bathrooms, we heard the ominous sound of a walkie-talkie in the hallway. As we came out, the officer announced that he had changed his mind: He was going to cite us for violating Minneapolis Statute PB 2-21, a misdemeanor carrying a maximum penalty of $700 or 90 days in jail. We took our tickets and left.
Clearly, this called for some journalistic investigation. First I called the Legal Rights Center in Minneapolis, where lawyers jumped at the chance to represent me and my codefendants. Next, I contacted police, parade organizers, and city officials, always asking the same basic question: What sort of precedent is there for ticketing people who are wearing kale? What follows is a partial transcript of those conversations--after the laughter died down.
Captain William Jacobs, Minneapolis Park Police.
CP: What is the exact wording of Ordinance PB 2-21?
Jacobs: The Proper Clothing ordinance? I'd be happy to read it to you. "No person ten years of age or older shall intentionally expose his or her own genitals, pubic area, buttocks or female breasts below the top of the areola without a fully opaque covering in or upon any park or parkway area as defined in PB 1-1. This provision does not apply to theatrical, musical or other artistic performances on any park or parkway where no alcoholic beverages are sold.
CP: In other words, if this had been part of a performance, it would have been more acceptable?
Jacobs: That's my understanding. [But] this was a parade, and not an artistic performance.
CP: If we have photos that show that nothing was showing, would that make a difference?
Jacobs: I'm not sure what the photos would prove. If it was a video, that might be different.
CP: What sort of previous issues have you had with improper clothing or public indecency in parades or park performances?
Jacobs: I'll be perfectly honest with you--I don't recall ever having one like that. This ordinance is enforced most commonly with what people like to call the nude beach.
CP: There was an entire group of people wearing kale at the May Day festival who--
Jacobs: The commissioner called me about it last night and I read the report.
CP: --so you know that there was a number of people who were wearing kale. Why would only three of us be ticketed?
Jacobs: That sort of discretion we have to leave to our folks in the field. As long as what they did was lawfully correct, we're not going to second-guess them.
Carol Lansing, assistant city attorney
CP: My question regards the May Day parade, and a group of people who were wearing kale. A park officer cited three of the members for improper clothing.
Lansing: Wearing kale?
CP: The vegetable.
Lansing: That's what I thought (laughs). Were they nude underneath?
CP: Not the people who were ticketed.
Lansing: I don't know about the case--it may not be in the system yet. It takes some time before that gets filed.
CP: Do you know how often someone is charged with that type of offense?
Lansing: I don't have numbers, but we see it every year. With the lakes and everything, every once in a while people aren't wearing what they should be wearing.
CP: Have you ever seen it used in a parade situation?
Lansing: No, that's unusual. But I don't know the case and so I couldn't comment.
CP: Where would a case like this go from here?
Lansing: You go to the Violations Bureau and ask for a court date. And in that courtroom, there are prosecutors who have the paperwork. Often we do continuances for dismissal without a plea when there is a minor first offense and a strange situation that doesn't warrant a heavy penalty.
Chris Huff, KPLA organizer
CP: I understand that you were there right at the inception of this kale thing.
Chris Huff: It was my stupid idea. We were sitting around listening to John Cale, my friend Mike Donahue and I. And I said, "Kale is something you could grow all year long and that way you could wear edible underwear from late spring to early fall, and this is how you will get laid." [Loring Cafe and Bar owner Jason McLean] had asked us to do a theater piece for the [Loring] Block Party.
CP: Where have you done it since then?
Huff: Two Block Parties, Cedarfest, May Day and the LynLake Street Fair, and we've performed at the Loring Bar. We had Wavy Gravy last year. He was the emcee at Woodstock and traveled with Ken Kesey's Merry Pranksters and did performance art, ostensibly on acid. Now he runs some children's fund in Frisco. [He was in the parade, yelling,] "Don't eat the brown kale!"
CP: Have you ever had any sort of issues--any reprimands or legal problems?
Huff: We had two parade marshals say, "If any of that falls off, you better stop." And we had one security guard say, "I've been a vegetarian for 23 years and there's no way I'm stopping them. "We had one guy throw a paper plate at us. That's as far as any hostility toward us has gone.
CP: What is the full name of this group of people who are involved with kale?
Huff: It's in flux. The first one was called Dr. Jerungdu's Karmic Kale Bikinis and this one was called the Kale People's Liberation Army.
CP: You did this just for the hell of it?
Huff: The only reason I did it again was because people would not leave me alone. Last week I was sitting at Lucia's [Wine Bar] and every third person who walked by me asked: "Are you doing the kale thing again?" It is edgy and people love it. I don't think it's gone over the edge.
CP: What would you consider to be over the edge?
Huff: If you are purposefully trying to offend people.
CP: When you were marching in the parade, did you notice anyone frowning or turning their children's heads away?
Huff: No. I did see people holding their ears occasionally. We passed the Baptist church and they did the kale cheer with us.
CP: Anything else you'd like to say?
Huff: Kale has more protein per calorie than any other vegetable on earth. Kale has so much protein, in fact, that, gentlemen, you will be replacing what you are losing when you are using this edible underwear.
Michael Donahue, KPLA organizer
CP: How long have you been wearing kale?
Donahue: From the beginning. We were listening to John Cale at my house, and Chris had this idea of planting my entire back yard with kale and using it as some sort of certified organic edible underwear concept. We didn't get it done that year, but the next year my back yard was filled with kale. It came in handy when we did the [Wheels as Art] art-car parade and decked out an entire car with kale. That was wild. Let me drive home that it is a theatrical event. The first two gigs we did, not only were we not harassed, we were given [awards and] money. There are photos of us posing with Minneapolis's finest. Then after that, at last year's May Day parade, Dr. Jerungdu's Karmic Kale Bikinis peaked because we had Wavy Gravy and that was totally huge. Last year, I would say, there was more skin showing. Everyone was pretty much decked out in kale. This year, people were wearing some real clothes. The problem was that we picked the absolute wrong place to change.
CP: How so?
Donahue: It happened to be in front of the park superintendent. Apparently this person saw all sorts of people's goodies and the cop just happened to come over at that point and [he] had issues with the entire situation. I didn't even see anybody be bare-ass naked. I just saw everybody pull up their shorts or whatever else and sort of remove the produce and pull up the pants. There were no goods showing on me because I was wearing underwear underneath.
CP: Have you ever encountered this sort of problem?
Donahue: Never. Every time we do these things, 99 percent of the people are into it. You play a gig in a bar or whatever and you're not going to get that universal acceptance.
Eden Fitzgerald, defendant
CP: How did you get involved with this kale situation?
Fitzgerald: I first wore kale two years ago for Cedarfest.
CP: Throughout the course of this, have you encountered any problems?
Fitzgerald: No. We've gotten a great response, this year especially. Grandmothers waving their arms and saying hello. A friend of mine brought her twin daughters who are three and said, "This is Eden and she wears kale, and wouldn't you like to wear kale some day?"
CP: Would you, considering the circumstances, do it again?
Fitzgerald: Yes. I don't think that I did anything wrong. It's natural to be naked and we were wearing natural things.
CP: What do you think of the tickets?
Fitzgerald: I think the cop had a definite something in his own morality that got offended. I find it strange that none of the men were cited.
CP: Where do you see this going?
Fitzgerald: Strangely enough, I'm not freaked out. My basic feeling is that once this goes to court, it'll be found in our favor.
Melissa Gettinger, defendant
I asked the officer if we could change indoors and leave the park in peace. He agreed. I've lost faith in his word because of this. I wasn't wearing anything that I would be ashamed to wear in front of my parents or my grandparents. I take offense that it was directed at the only people who tried to cooperate with the officer.
Pablo, May Day parade coordinator
CP: I understand that last year you had some sort of discussion with the kale people.
Pablo: What actually happened was that two years ago on the parade route, someone was walking around with a G-string and a giant phallus. [Powderhorn Park recreation supervisor Corky Wiseman] received complaints from people living in the neighborhood. I believe that some complaints were filed with the Minneapolis Park Board. It's not uncommon to have complaints against such a large-scale event--in terms of attire, but also in terms of noise and trash. Last year, I knew that there was going to be people dressed just in kale. I took the initiative and said, "You know, we've had some complaints before, be prepared to put on more kale. They were very, very polite and said, Not a problem. We didn't get any complaints and it was totally fine.
CP: Do you have any rules for people who will be marching in the join-in section of the parade?
Pablo: In terms of clothing?
CP: In terms of anything.
Pablo: There are people who've marched in the join-in section--because it is a free-for-all--who have never contacted us and who we can't contact. The join-in section can be longer than the parade itself. We do have parade marshals who sign people in and we do try to make people aware of what our policy is. We've had people march in the join-in section that espouse hateful things, and so we have had to add [a policy saying], "Heart of the Beast reserves the right to ask people not to participate if they don't have a peaceful message."
CP: Does the Park Board exercise any control over what happens in the parade?
Pablo: They don't have anything to do with our content on the parade route because it's not on their grounds, and they don't have anything to do with the content in the park because they have chosen not to do that. Corky and I decided that in the event if there was something we weren't comfortable with, we would approach each other and say, Hey, what can we do? [The citations] happened before me or Corky could get to it, and I'm assuming that the officers enforced the law as they saw fit.
CP: Have you seen anything like this in the past--has anyone been confronted with a citation for improper clothing?
Pablo: Not that I know of.
CP: Have you received any complaints this year?
Pablo: Not that I know of.
Corky Wiseman, Powderhorn Park recreation supervisor
CP: What can you tell me about the May Day kale incident?
Wiseman: I'm willing to explain what I saw, but I'm not going to make statements on behalf of the Park Board.
CP: Why don't you tell me what you saw.
Wiseman: What I saw was that when they pulled off to the side, people started getting dressed, and I saw private parts hanging out. I started going over there to say something myself about, you know, can you cover some of that up? And then I saw the police walk up to one of them, and there was a lady who got smart with one of them about the way they dressed and the next thing I know, he was giving her a ticket. Then he told them he wanted them out of the park. I went and told them if they put on some clothes, they could come back in.
CP: Did you receive any complaints from anybody?
Wiseman: No--other than [Park Board member] Dean Zimmerman said he didn't think it was fair they were harassing people and I told him I didn't feel they were being harassed. I said, "If I had kids here, I wouldn't want my kids looking at adult private parts," and that's my personal opinion.
CP: Were you offended?
Wiseman: I wasn't offended they had kale on, I was offended that there were private parts showing. A whole group of people started looking at the people in kale because it was a show for them. If you want to change, don't do it in public--it's a very sensitive world and everybody has rights and we have to try to balance and respect all. That's my job here.
CP: Do you remember me at all? I was wearing kale and a sarong scarf.
Wiseman: Yeah, I remember you.
CP: Did you see anything on me?
Wiseman: No, you did have on a long scarf. Maybe the most I would've seen is a cheekbone--and I can't even be sure about that.
Dean Zimmerman, Park Board member
CP: How are you?
Zimmerman: I'm just fine, and what can I do to make you happy?
CP: You called earlier about this kale incident. Captain Jacobs had briefed you, and you were asking about my side of the story.
Zimmerman: You were ticketed, right?
CP: Correct.
Zimmerman: Why don't I just tell you the story I've heard. As I understand it, the group came into the park and stopped right in front of a building to change. The officer went over and told people to please cover up and people became mouthy and so the police got his ticket book and wrote them up.
CP: My question for you is, why are three people cited when an entire group is in question?
Zimmerman: I don't have a satisfactory answer for that. Quite frankly, I don't have a problem with nudity. I've been known to be naked in the parks myself.
CP: You realize that what you are saying is on the record.
Zimmerman: That was before I was commissioner. I don't have a problem with nudity, but I understand others do. I don't know what to say except the whole incident makes me ill. It upsets me, because as far as I'm concerned, your entry in the parade was--I loved it. I thought it was great and outrageous and it's what we look for in a May Day parade.
CP: So what's the general consensus among those involved? Do they want to pursue this? Or do they want this whole silly, sordid situation dropped?
Zimmerman: If you put it in those terms, I'd like to see this silly, sordid situation dropped. And next year, you just come over by my booth and you can all change in the back of my truck.