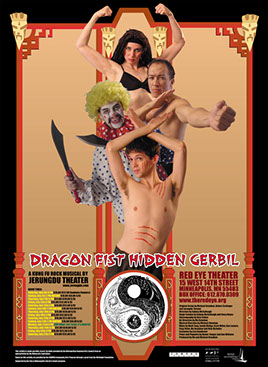 Past Projects > Jerungdu > Dragon Fist Hidden Gerbil
"... a cult classic."
-Jonathan Townsend, Lavender
Dragon Fist, Hidden Gerbil was the final Jerungdu project which ran at the Red Eye Theater, Minneapolis, in July, 2002. Dragon Fist examined Eastern philosophies and aesthetic principles from a Western perspective. (Our original working title for this piece was Ass Ass In.) The idea was inspired by Asian action films, Japanese monster movies, video games and Asian pop music. We combined all of these elements into a multimedia extravaganza with bawdy humor that audiences have come to expect from Jerungdu productions.
The show was made possible in part with funding from the Metropolitan Regional Arts Council, COMPAS, and The Minneapolis Arts Commission.
The story is based on the life of the Buddhist Saint Milarepa. Using this as a model, we skewed (skewered?) the story and adapted it to a Kung Fu movie context to look at issues relevant to Western audiences. It takes place in a fictional place in an oblique time period which incorporates modern and ancient stylistic conventions found in both the East and the West.
The effeminate Cooty (based loosely on the "Grasshopper" character played by David Carradine in the 70' television series Kung Fu) is raised by an overbearing stage Mother who is only interested in teaching him show tunes. After being evicted from their home by an evil aunt and uncle, Cooty's Mother vows revenge and makes him dress in drag to join a group of lesbian ninjas. There, he learns "Kung Ling Fu": a form of evil magic practiced by the great sorceress known as the Dragon Lady.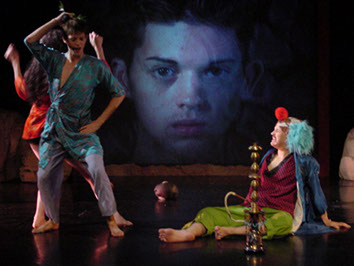 After killing off most of the village (but ironically not the evil aunt and uncle,) he becomes known by the townspeople as "Ass Ass In". He then seeks Karmic redemption under the guidance of the great Sao Lin master Hu Ta Chu. He also masters "gerbil style" Kung Fu as he comes to terms with his own sexuality.
Much of the music in the show was created by lifting actual Asian pop tunes and translating the lyrics "phonetically" into English. Needless to say, such creative decisions meant that the show attracted some controversy. In fact it was almost scrapped. After rehiring an entirely new creative staff and replacing over half of the defected cast members, we did manage to put on a show.
I personally felt that the humor was pretty light hearted and no more racist or offensive than when Austin Powers wanted to have a threesome with Japanese twin sisters named "Fook Mee" and "Fook Yu". But since we're not Mike Meyers, we apparently could not escape punishment.
Read the reviews. Read the script.